IF YOU NEVER READ A SINGLE REVIEW HERE, PLEASE WATCH THIS MOVIE :))





The first time I watched "Animal School" I cried. I cried for my son ,I cried for every kid who makes their way through an often difficult education. I cried for my self too.

I was a very bright child. I tested high but always had trouble in the homework department. One teacher told my Mom that I was smart and should not be playing, I should act more studious. Another said that because I was bright and my grades did not match my smarts, I was just lazy.

These difficult times changed my young attitude about learning. It was no longer exciting . It became a chore. That is the crime in this - robbing a child of the innate joy of learning.
I went on to work in the school system and saw that most children struggled, very few retained their natural desire to learn and many fell through the cracks.
I took a huge leap of faith and decided that wanted to salvage what little excitement my son had left. I brought him home to learn.

Animal School is a powerful message. I sent it anonymously to every address in the Community School directory. I hope that opened one eye. It would have to I think.
You can find the video, buy the download or book, or get advice on raising happy and emotionally healthy children amidst turbulent times at Raising Small Souls. I have received Ellen's newsletter for years - it's a wealth of information for parents.
WIN IT:
I have 2 Hardback copies of Animal School and 10 pocket softcovers to give to some very lucky winners. These wonderful books were offered by Ellen Braun of Raising Small Souls.
MAIN ENTRY:
Watch the above movie & tell me what you think. It's worth watching :) I am so excited to be able to include this giveaway in the Give It Away Now! Carnival @ Mom Most Traveled :)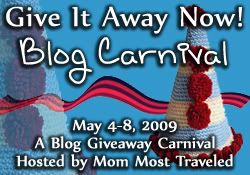 EXTRAS :
* Follow my blog 

* Subscribe to Wishing Penny via Email 
* Grab my Button 
Giveaway will end on May 10, at 11:59 pm EST. Winner will be selected using Random .org. I will email the winner & you will have 48 hours to reply back before I draw a new winner . Please remember to leave me your email address if it is not visible on your profile so that I can contact you if you win. Good luck to everyone :))) ** I have altered the original end date from the 5th to the 10th so I could add it to the carnival :)