This post brought to you by Boudreaux's Butt Paste. All opinions are 100% mine.
Boudreaux's Butt Paste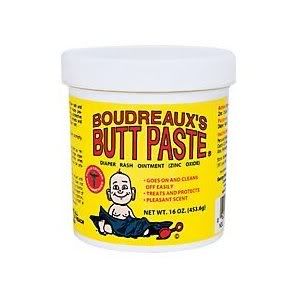 I''ve recently had a diaper rash problem that I didn't foresee  with my little one in cloth diapers. We were having a real problem. Sunburned looking, cracked skin with nearly every diaper change. We'd get her healed up for a day or two and then it'd be back to a sore bottom and a fussy baby.
Nearly ready to have her seen by the doctor, I went in search of a cure, something I hadn't tried before to soothe her poor skin.
I found Boudreaux's Butt Paste  and after reading the info on the package, decided it sounded worth a try. I had also heard good things about Boudreaux's Butt Paste from my Aunt years ago- a name you don't forget!
  years    I'm really excited with the results. After one use, no more red cracked skin on her bottom. I didn't believe it and thought at first it was a fluke. It's been a couple weeks and no sore bottom - it's no fluke - it really works!
Formulated by a pharmacist and respected pediatrician Boudreaux's Butt Paste  contains - 6% Zinc Oxide & Peruvian Balsam to treat diaper rash and soothe irritated skin.
Make sure you visit Boudreaux's Butt Paste
 

to receive your free sample!

Available in Convenient sizes of 1oz, 2oz, 3oz and 4oz tubes, 16oz jar and single foil pack