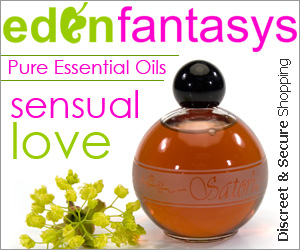 Delight your senses. Evoke passion. Relax, renew, reunite. Rekindle love.
The power of touch, taste, scent, sound, & sight. Create a soft spot for you and your love to share.
Remember
EdenFantasys
for all your sensual love needs.
Massagers, Oils & lotions , Sensual bath & body, Mood music and video, Lover's games. They also carry a huge selection of edible treats like - Paints, dusts, powders,Lotions, lickers, gels,Butters, puddings & candies. Enhancers for him & her. Candles for ambiance - Aromatherapy candles, Mood candles,Travel candles, Incense, Beeswax and soy wax candles.
EdenFantasys really is your one stop shop. It's the only place you'll need!